With no snow in the lower 48, Zack, Molly and I had no choice but to tug the tiny house north of the border to one of my favorite places on earth, Nelson British Columbia. The minute we arrived i knew we were in for a good trip.
The snowbanks were stacked high and there were fresh cm's on the road up to Whitewater Resort.
Check out the video!
Link to VIDEO on Teton Gravity
-Words by Molly Baker-
Whitewater is a mythical place for an American skier. Not too distant, but yet so far out of reach. As we drove north, I heard the boys talking of finding a Canadian girl to marry. There's that option and then there's ex-pat status. How does an American stay in Canada, land of epic powder for the winter? Or even a lifetime?
As we drove further north, our question went from how we could stay in BC to how we were getting into the country. With a house on wheels and amounts of ski gear that could outfit the entire town of Nelson, our odds seemed low. The border patrol was sure to find something wrong with our situation. But without even a mention of Ullr and his presence in the lower 48, we went north to the border anyways. It would be worth trying and getting turned around.
At least we'd have tried.
We negotiated the border an hour before the crossing in rural eastern Washington closed, hoping the officer wouldn't want to bother with questioning at the end of his shift. Of course, they pulled us out of our trusty old truck, Rusty Deluxe, and asked us to step inside while they inspected the tiny house and our bags of gear. The two solemn, but friendly (dare I say friendly? Canadians, it's a stereotype to be proud of…) gentlemen threw our names in a Google search, watched the Sidecountry Sessions videos, laughed and treasured the spectacle of the tiny house, and sent us through to the land of "Neldor".
Nelson, British Columbia serves up a fruitful combination of new age yoga/hippy culture, fresh prideful food, and Canadian quaintness. The Outer Clove, Baba's, Oso Negro Coffee, and the two natural grocers in town could feed our crew for a lifetime without dispute. A vanilla chai from the town's hobbit hole eatery, a.k.a. The Preserved Seed, could satiate our palette after every shred day. Life is easy in a ski town like Nelson. No desire goes unsatisfied.
More importantly than the food, is what quenched our skiing appetite. According to one local gent, "Whitewater gets more fresh centimeters than any resort in BC, eh?" Although this particular winter has been drier than last year's strong La Nina, centimeters of fresh were common. The skies didn't clear for our first week in the Whitewater parking lot. Every morning we peered out hoping to see Ymir Peak from the tiny house, but a low ceiling of clouds obscured any such view. We stuck to the trees and enjoyed the BC powder.
Our original schemes of staying in Canada for as long as possible panned out in an inevitable issue with Rusty D. After parking the tiny house in the first row at the ski area, we drove Rusty into Nelson, only to have the 1991 brown Ford catch on fire. Two extinguishers later, plus an appearance by the local fire department and police squad, and Rusty was totaled. We learned we weren't just "stuck" to the trees.
We also happened to be stranded in Canada, just fifty feet from the lift at Whitewater.
This kind of occurrence had happened once already in Silverton—a tiny house near epic skiing, with no vehicle to tow it away. Luckily, this time we'd fallen down the rabbit hole to Whitewater, a wonderland of sidecountry lines and charming characters—people who smile from ear to ear, yelp, and scream to their friends to come check out the little cabin on wheels.
The tiny house has made it home.
Looking up to Ymir peak from the parking lot as it takes in the last light of the day. Our tracks exiting the cuba chute on the left. Hope to make it back to wh20 to hit that face!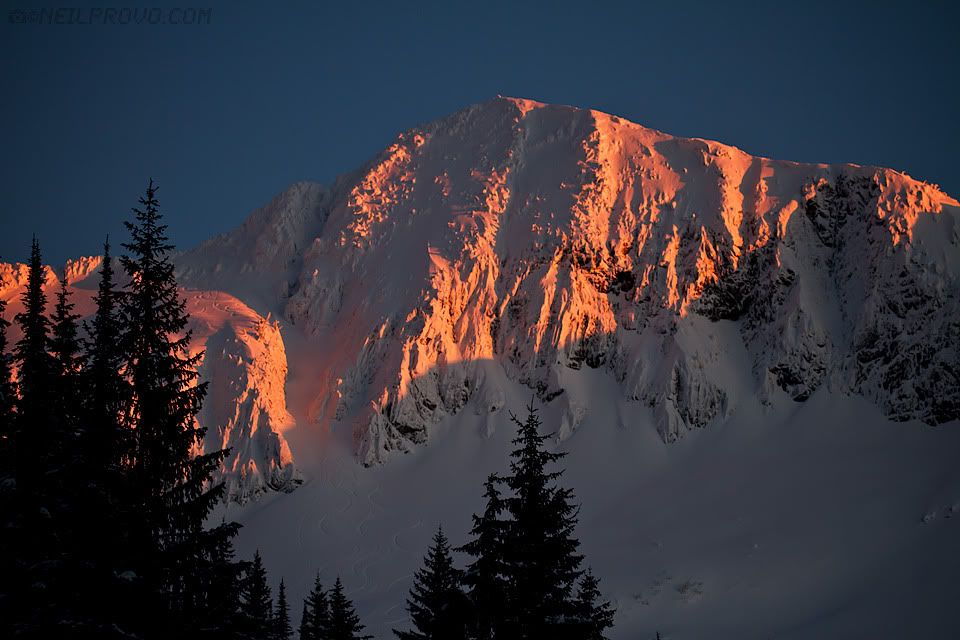 Pray for Powder and pick up a pair of OR mitts on the link below!