British columbia has been on my list for quite some time. Finally got the chance to make it happen. Ian had been up in Nelson skiing with armada for about a week while i was back in utah, riding hardpack due to the lack of fresh pow! The Doc gave me the go ahead on the ankle at 6 weeks. I had had about 2 weeks on snow and the leg was feeling pretty good, so i thought!
Ian's trip was coiming to an end when he called me up and told me about the terrain and conditions. Utah was hurting at the moment so i decided to make the journey north to meet up with him to shred the Koots! The next day i was on a new delta flight which only takes 2 hours from salt lake, straight into the heart of the Kootanay range!
Thanks Lisa and Jay!!
We ripped lonnng deep runs filled with thousands of pillows for a whole week. It was a dream! BC is one of my favorite places to be! Here's a bunch of photos to give an idea of the great times we had!
Day 1. Kicked things off with a day at White Water ski resort outside of nelson to get the legs warmed up. Click photos to see BIG
It should be called "White out" resort, because we couldn't see anything the whole day!
Day 2. On to a new zone we both had never been to. Ice-capped mountains! Crazy how many logging roads there are in bc, most of which lead to incredible terrain.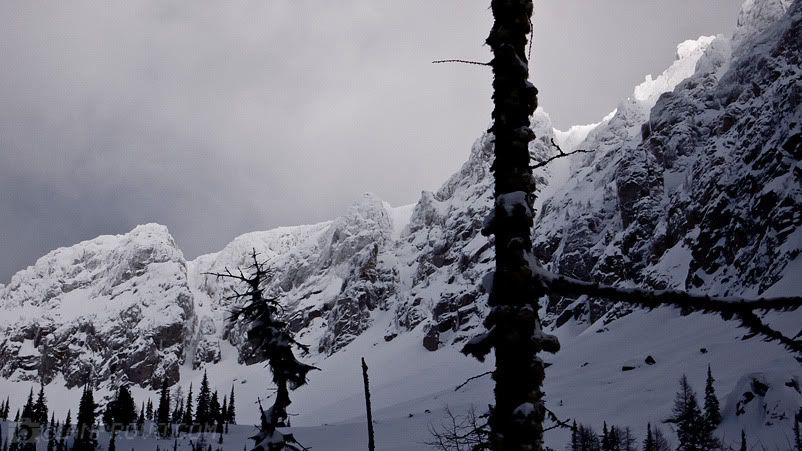 We dug some pits to check the snowpack. Southern BC had been dealing with a mega surface hoar issue for a while. It was buried about 3-4ft deep. Slabs were popping out clean below tree line, so we kept a watchful eye.
Ian is stoked.
At the top of our first run after discovering the sickest zone i have ever been to. A solid 1800ft run of tree's and massive pillows!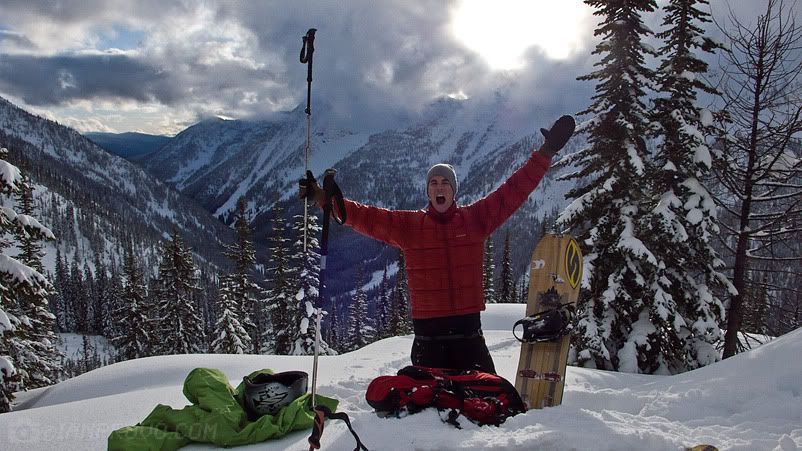 We had a great day. We were so happy to have found a good zone to tour. Plan was to come back the next day to dig a snow cave and stay for 2 days to explore the area.
Nothing like a full day in the mountains...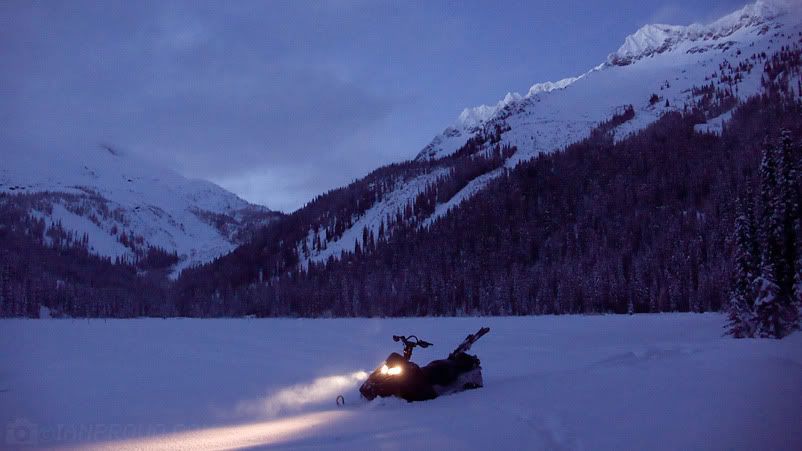 Day 3. Park the sled at the boundary and hit the skin trail! There was plenty of snow up there as you can see! 1500ft up we came upon a steep cliff zone that we saw the day before. Good lines to be had.
Oh here's a nice little pillow line to start the day...maaaash!
Ian dropping off a massive chalk stone.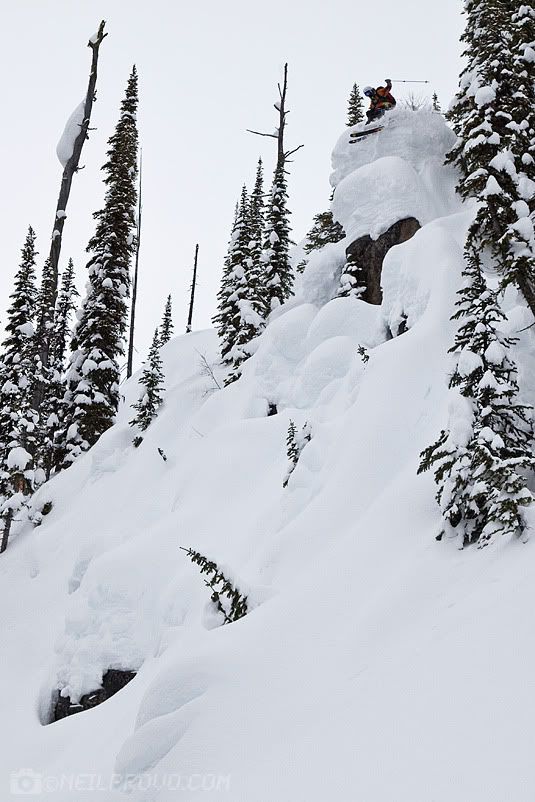 Boosting into the whiteness...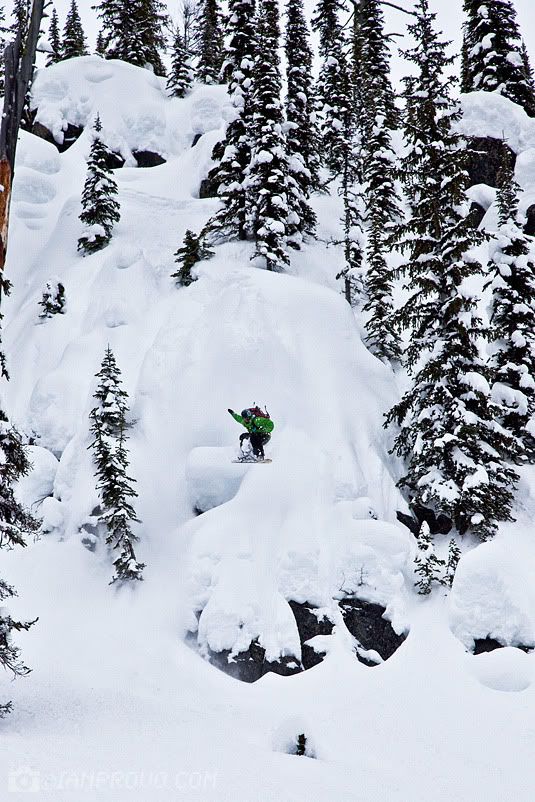 Why make a snow cave when you stumble upon a public cabin in the woods? We chose the cabin, Duh! It was a choice starry night, perfect for a cup of tea and a smoke! Tomorrow was to be my first bluebird day in BC.
Day 4. Sure enough the sun was shining and the pow was deep. These mountains hadn't seen the sun in a while so they were fresh! You can see our destination for the day at the end of my ski pole, righteous steeps!
Killer views all around...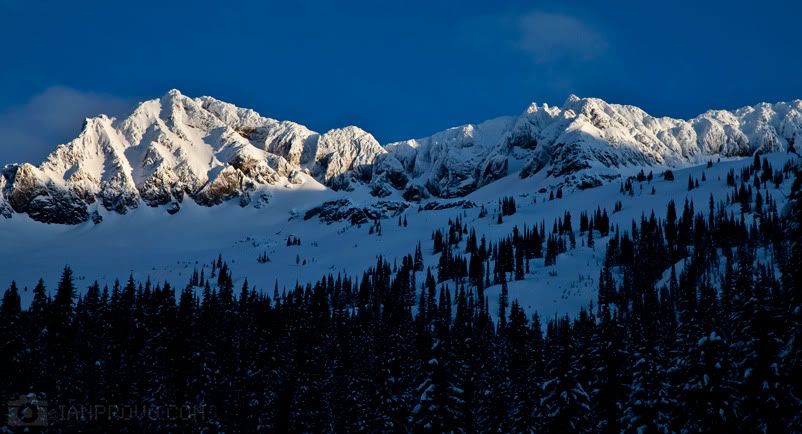 Here we are! This looks like a good place to ride for the day...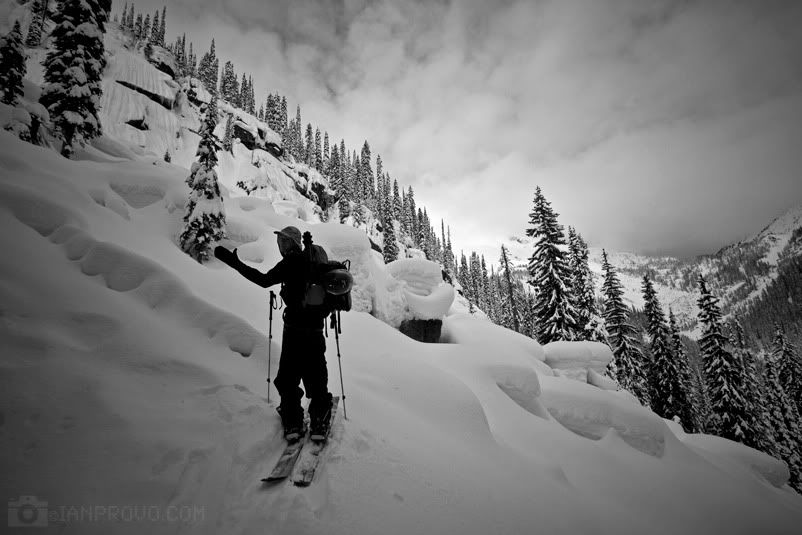 Have a look at these lines. Pondering the massive slide paths across the way while standing on a bus sized pillow!
Ahh the sunlight, only lasted for an hour unfortunately. Still have to get up there too!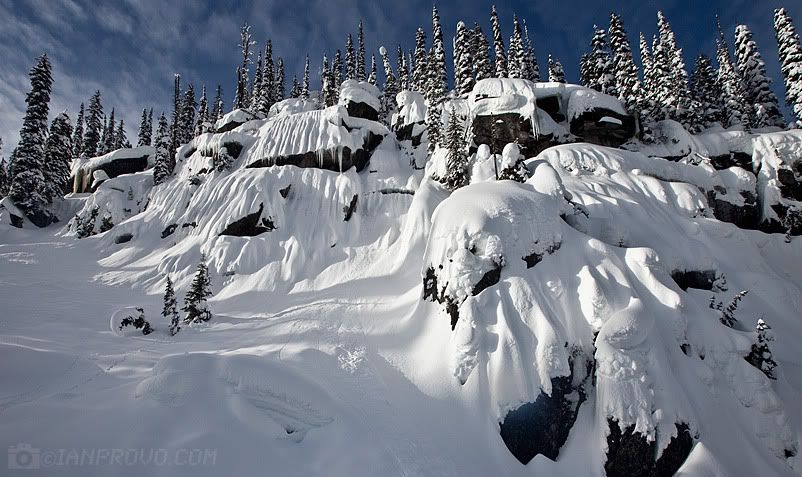 Stick that in you're pipe and smoke it, a high grade bc run!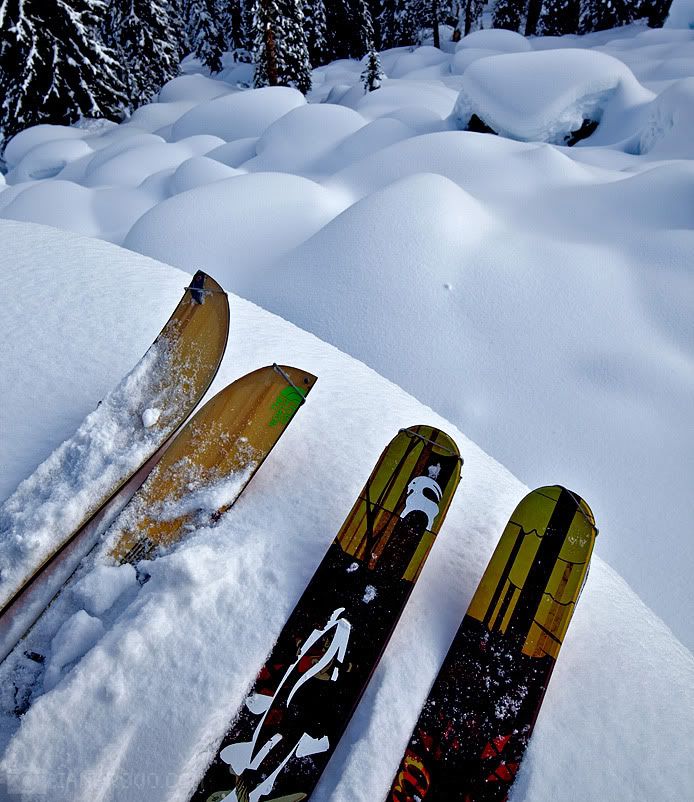 Ian's view from the top of his line, and my view from the bottom! Killer pillow line...
A looong run down filled with soft fluffy pillows. What a day!
Day 5. RETALLAK cat skiing! Thanks SO much to all the staff there, priceless. No photos cause we were having way to much fun ripping non stop top to bottoms... Had the helmet cameras rolling the whole day so we will have some cool footage up soon. I got lost in the moment and forgot that i had broke my ankle just months before and ended up tweaking my knee due to lack of strength from couch warming. It wasn't to bad so we took day 6 off to relax before heading into the back country again.
Day 7. Back to the zone we had discovered earlier on. A fresh line to start the day off right!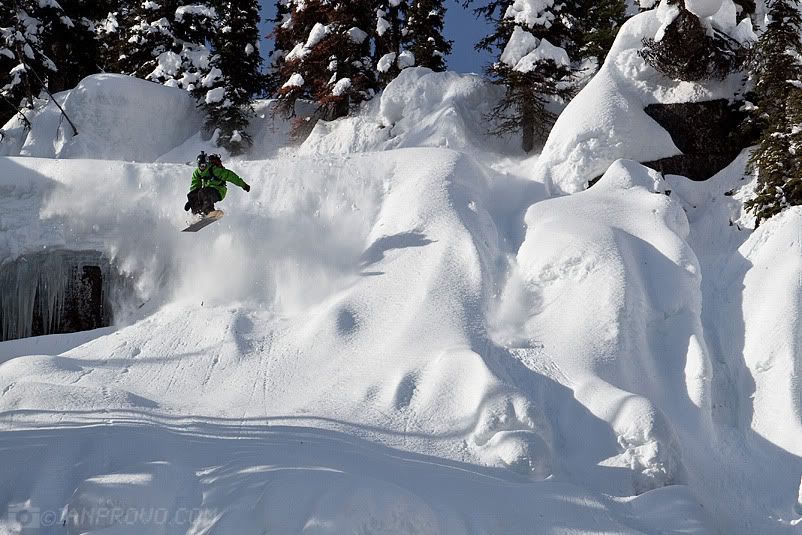 The views are great when you get up high, lots of possibilities in these parts
Ian was on point this trip and decided to step to the Ice spine wall...GNARLY LINE!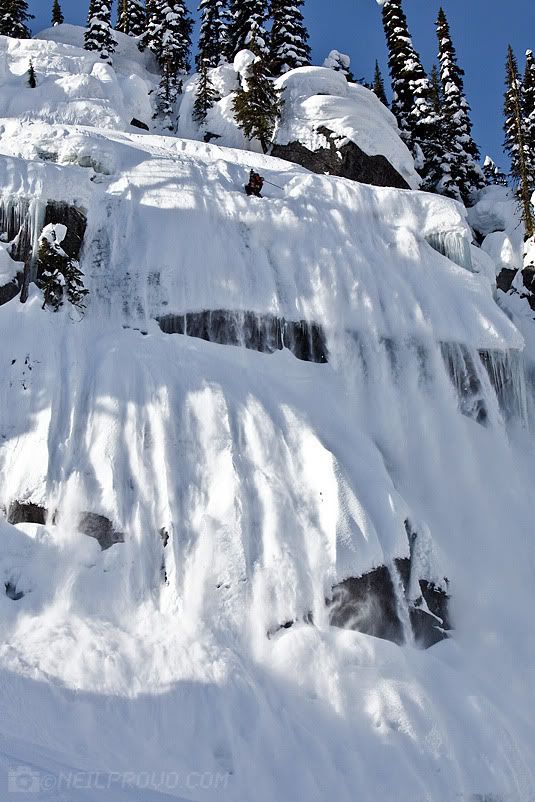 That was a nice one bud!
Hoping into the last bit of sunlight for the day on this slope.
Plenty of pillows on the way down.
Our trip came to an end the next day as we were driving up the logging road and almost slammed some trees. It was sketchy close call. Money was getting low, my body was beat as was ians so we decided to had back to utah. Fortunately utah was just getting done with a fat storm which dumped a ton of snow.
So stoked to come back to british columbia... It is now my new favorite place on earth. Next time im bringing my full backpacking kit, my sled and some studded tires for sure!!! Till next time, Thanks for having us Eh!!
Check in for a few BC video's coming up soon!